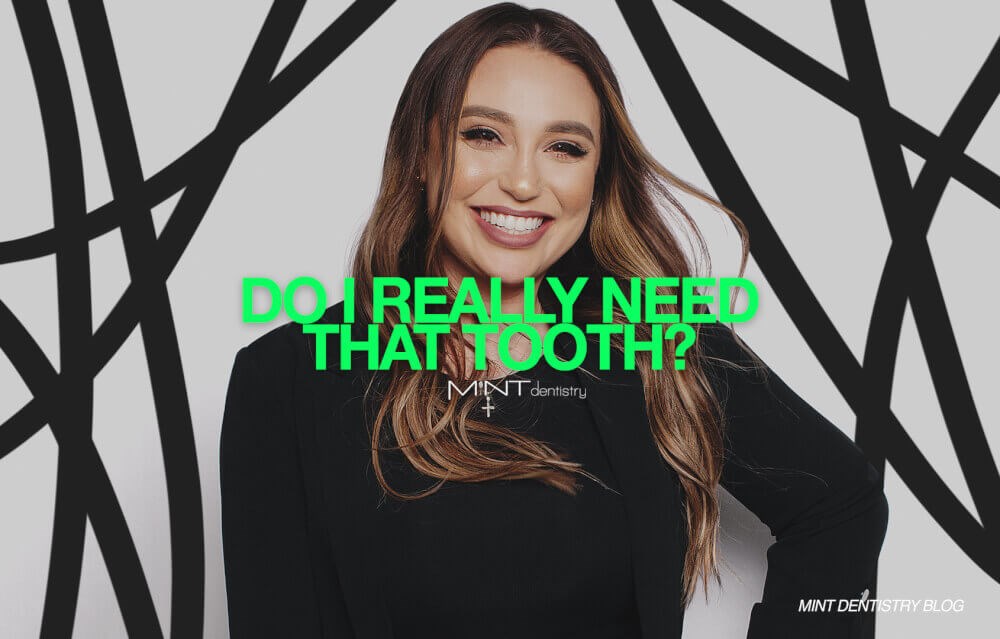 SOMETIMES, TOOTH EXTRACTION IS STEP ONE OF SHOWING OFF YOUR MOST BEAUTIFUL SMILE
Years ago, when you were very young, losing a tooth was a sure sign of a dollar or two from the tooth fairy. Unfortunately, when you got all your adult teeth, it became significantly less fun. There are loads of reasons that you might have a dental extraction to help your dental health, like tooth impaction, to avoid overcrowding, or an infected tooth. Even though a dental extraction might not seem like fun, it's not as scary or painful as it used to be. With modern techniques and many sedation choices, MINT orthodontics makes dental extractions a little easier in case you require one. Our staff in Dallas, TX will thoroughly examine the tooth or teeth prior to recommending an extraction. When a tooth has to be taken out, our team works hard to make sure you feel comfortable from beginning to end. Keep reading to explore the two types of tooth extractions and common reasons a tooth might need to be extracted.
TYPES OF DENTAL EXTRACTIONS
There are multiple reasons why a tooth may need to get extracted. First, the team at MINT orthodontics will determine the cause of your dental symptoms. After that, they can determine what kind of tooth removal best fits your needs. Most dental extractions fit into two primary categories:
SURGICAL EXTRACTION
A surgical extraction will be conducted if the crown hasn't completely broken out of the gums. This means that an incision is necessary to get to the tooth under the gums. If necessary, the tooth may be cut into many pieces for a quicker extraction. Extraction surgery is usually chosen to pull the wisdom teeth or a nonerupted tooth.
SIMPLE EXTRACTION
Your dental care provider will do a simple extraction if your tooth is visible above the gumline. The tooth can be loosened by a tool called an elevator before the crown and root are taken out of the jawbone and gums. This technique is mainly selected when a tooth is severely infected, extremely decayed, or not able to be saved, or to help with overcrowded teeth.
COMMON REASONS YOU COULD NEED TO GET A TOOTH REMOVED
Numerous different tooth issues may result in having to get a tooth extraction. One of the leading reasons adults in Dallas, TX will require a dental extraction is to avoid tooth eruption failure. Here are a few of the other common reasons you might need a dental extraction:
TEETH THAT HAVEN'T ERUPTED
When you have tooth impaction, it indicates there is some kind of problem keeping the tooth from pushing through the gums. An impacted tooth could be blocked by a baby tooth that still hasn't fallen out on its own, or it could be moving in an irregular direction and is obstructed by another permanent tooth. Based upon the cause of the impaction, the dentist can recommend a simple or surgical extraction to reduce pain or keep you from getting an infection.
SEVERE CAVITIES
If a cavity is neglected or not treated in time, it may eat into the pulp within the tooth. Although a root canal could possibly be done to preserve the tooth, it may need to be taken out if the damage is severe enough to undermine the tooth's structure. A simple extraction can keep the decay and disease from spreading to other teeth, the gums, jaw, and, finally, your bloodstream.
MOLARS
Most people's back molars, often known as the wisdom teeth, will most likely have to be removed. The modern human jaw normally isn't large enough to fit these extra teeth, so when they begin to grow out of the gums (usually from the late teens to early twenties), your dentist could suggest a surgical extraction. It's key to have your third molars taken out as soon as possible, before they become impacted or infected. But a small number of men and women don't have to get their wisdom teeth pulled out. Very rarely, some lucky people don't grow all four molars or even any whatsoever!
OVERCROWDING OF THE TEETH
For some patients, one or more teeth might need to be extracted in order to begin an orthodontic treatment like Invisalign or braces. These treatments are intended to gently push the teeth into the proper alignment, which might require pulling one or multiple teeth if there is not enough room so the others can fit. Overcrowded teeth are usually resolved with a simple extraction.
DAMAGE TO THE TOOTH
Sadly, mishaps can happen to the best of us, and, occasionally, our teeth could incur trauma. Although the first solution is usually to attempt to save the tooth, it might not be possible. The damage may be a result of a car accident or perhaps a sports or work incident, but whatever the reason, people in Dallas, TX really should plan a consultation with a dental practitioner if they've experienced a mouth injury. In some cases, the damage might not be obvious to a nonprofessional.
RECOVERY PROCESS AFTER A DENTAL EXTRACTION
When you've had a dental extraction, it's critical to pay attention to and strictly follow your dentist's after-care instructions. A simple extraction will usually require less recovery time compared to a surgical extraction, but it is going to be different for each case. You might be given a prescription for antibiotics to prevent infection, and maybe a pain medication. You might want to follow a soft foods diet for the initial few days after the procedure, while your gums are sensitive and recovering. This is a good opportunity to have some ice cream, but you need to also use protein shakes, etc., for more nutritious foods. You ought to avoid using any tobacco products, both leading up to and after your extraction, since they can impede your body's ability to heal properly. Your dentist may suggest using an antibiotic mouthwash until you given the okay to go back to brushing and flossing again.
THE ROAD TO A BETTER, MORE ATTRACTIVE SMILE MIGHT INCLUDE A TOOTH EXTRACTION
A tooth extraction could be done for many reasons, including to keep an infection from spreading, to resolve an impaction, or just to allow your other teeth enough space. Taking care of all of these problems at MINT orthodontics is important in obtaining your healthiest, most alluring smile. Reach out to us in Dallas, TX to set up a consultation with our skilled staff to determine if a surgical or simple extraction might be the optimal treatment for a better, brighter smile.